For all students and lovers of the Italian language: are you looking for the ideal place to study one of the world's most beautiful languages?
Welcome to the Leonardo da Vinci Italian language school in Siena, one of the jewels of Tuscany, the very cradle of the Italian spoken and written word.
Sienacombines all the neighborliness of small-town life with the attractions of a world-renowned cultural center and the educational and social resources of a campus environment.
Within its ancient walls and astonishingly well preserved medieval architecture, Siena will greet you with a plentiful variety of museums, bookstores, cafes, restaurants and shops featuring exquisite handcrafted goods.
Because Siena is a family town that houses one of the most important universities in Italy, students of all ages will find the pace of life leisurely yet rewardingly enhanced by a wealth of activities and many opportunities to exercise their new language skills.
As a student at the Scuola Leonardo da Vinci, you might study Italian in the morning then spend your afternoon at a wine tasting, or on a guided tour of a cultural site, at a lecture learning about one of Siena's fascinating historic traditions, or simply sitting in the beautiful Piazza del Campo with an aperitif.
In the evenings you might attend a concert given by participants of Siena's world-class music academy or try one of the local pubs or restaurants featuring hearty Sienese and Tuscan cuisine.
Weekends are for exploring the town's winding streets, art-filled churches, and picturesque squares or for excursions around the region. Florence, Arezzo, San Gimignano, and Volterra, are just a few of the culturally rich cities that are but a bus ride away.
Scuola Leonardo Da Vinci is one of the most important Italian language schools for foreigners in Italy, and organizes Italian courses since 1977. It is present in the most beautiful cities of Italy (Florence, Milan, Rome, Siena), and each year the company welcomes thousands students from 60 different countries in the world.

Article from articlesbase.com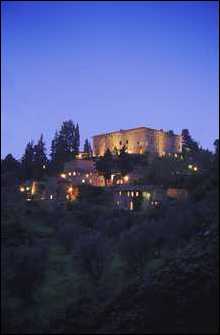 Ventura CA (PRWEB) January 12, 2006 –
From E. M. Forster's "A Room With a View" (1908) to Frances Mayes' "Under the Tuscan Sun" (1996), Tuscany has long been highlighted as a place of unspoiled beauty. How has Tuscany managed to preserve its quaint landscape, strewn with tiny villages, ancient architecture, and overall regional flavor, despite its popularity?
"Tuscany is still the sparkling gem of history and culture that the world has celebrated for generations," says Rentvillas.com founder Suzanne Pidduck. In the 1940′s, strict building regulations preserved the charm and old-world feel of this prized Italian region. Tuscany is much the same today as it has been for centuries — an escape from modern stresses to a place where all that matters is sunshine, great wine, and wonderful food, surrounded by gently rolling hillsides, flourishing vineyards, and ancient coastlines.    
One of the best ways to experience the untouched countryside of Tuscany is to rent a vacation villa. Since 1984, Rentvillas.com has offered a broad selection of villa rentals in the Tuscan region. Voted best website for vacation rentals by Forbes Magazine in 2005 and Conde Nast Traveler in 2000, and with 2005 recommendations in Travel and Leisure and National Geographic Traveler, Rentvillas.com is staffed with a team of multilingual advisors eager to help clients find the perfect rental villa for a holiday in Tuscany. Below are a few hand-picked Tuscan villas, guaranteed to delight even the most jaded traveler:
Castello Machiavelli (2): Located in a 9th century castle once owned by Machiavelli, this apartment is surrounded by a medieval hamlet and gorgeous views. The location is ideal for day trips to Lucca, Florence, Siena, San Gimignano, and Volterra.
Villa Antonietta (10): A traditional but well-equipped country villa in the midst of the Chianti hills, this property sits near the ruins of a 14th century castle. Open-beam ceilings and terra cotta floors provide that authentic Tuscan feel.
Il Rifugio (2): This apartment within an ancient Vertine hamlet provides picturesque surroundings for an intimate Italian vacation with your loved one. Explore nearby villages Gaiole and Radda or take a day trip to Monteverchi, Siena, or Florence.
La Villa Monteriggioni (6): Overlooking the medieval walled hamlet of Monteriggioni, this stone villa is decorated with frescoes and original 17th century furniture. Vineyards and olive trees on the property produce olive oil and Chianti Classico wine, while the garden by the private pool is kept in classic Italian style.
Visitors returning from their Tuscan villa holidays rave about one thing above all: the sense of history that saturates the land. Renting a villa in Tuscany is like stepping back in time: none who journey there can resist being swept away by this last refuge of old-world charm.
About Rentvillas.com
Rentvillas.com has been in the business of renting apartments, villas, farmhouses, cottages, and castles since 1984. With Rentvillas.com, customers can check availability and make bookings on a large portion of rental properties in real time. Instead of replacing human interaction, the Rentvillas.com web site enhances the quality of each customer's experience. Rentvillas.com is dedicated to being the most experienced, the most innovative, and the most customer-obsessed company in the industry.
For further information, visit Rentvillas.com or call 800.726.6702.
# # #