xml:lang="en" lang="en" xmlns="http://www.w3.org/1999/xhtml">

Snooth Launches Food & Wine Pairings Application, Reaches More than 40 Million Monthly Visitors











New York, NY (PRWEB) July 7, 2009
Snooth, the world's largest wine site, today announced the launch of its Food & Wine pairings application for My Yahoo!, the most popular personalized start page with more than 40 million worldwide monthly visitors.
My Yahoo! users are now able to peruse thousands of recipes from leading publications such as Food & Wine, Cooking Light, Real Simple and Health, among others, and get automatically generated wine pairings based on each individual dish.
The app will also highlight the most popular recipes, pairings, and wines of the day, with links to purchase the corresponding bottle.
For example, for a Tomato-Chicken Pasta dish, Snooth's digital sommelier recommended "Fontaleoni Vernaccia di San Gimignano 2007″ with the rationale, "This mineraly white offers nice acidity with a medium bodied feel, allowing it to partner perfectly with this meal."
The functionality was hand built using Snooth's database of the world's wines and the decades of accumulated wine knowledge among Snooth's employees, particularly that of Gregory Dal Piaz, Snooth's Community Manager. Snooth's expertise in systematically analyzing and categorizing wine data was transferred to analyzing and categorizing recipe data in order to create the complex pairing algorithm.
"This algorithm is an interesting combination of our backend tech functionality, as well as the human expertise of our resident wine guru Gregory Dal Piaz," said Philip James, CEO of Snooth. "We're trying to democratize the wine experience and make finding good wine easier, and now everyone has access to a top-tier sommelier with the click of button."
Since its inception in June 2007, Snooth has grown to be the world's largest wine site, with over 500,000 users per month, 1 million wines and prices from 11,000 merchants and wineries worldwide. The site currently handles over 2 million searches per month and has over 125,000 registered users.
About Snooth

Snooth is the world's largest wine site with over 500,000 monthly users. Launched in June 2007, Snooth is a free, highly interactive, social database of the world's wines, offering both casual and expert wine drinkers the ability to search, obtain personalized recommendations, interact with fellow wine lovers, as well as seamlessly buy from a global network of over 11,000 merchants.
Designed to be easy to use, users have the ability to search by their own personal preferences (bold, peppery, fruity, etc), by a specific meal-pairing, price, or by region or producer. Snooth's recommendation engine also provides customized selections based on stated preferences and user feedback. The more information a user gives on wines they enjoy, the more personalized and detailed the recommendations become.
Snooth's massive database of 1 million wines and 2 million reviews, powers many third-party wine applications and functions as a central repository of wine data. Snooth is available on-the-go using its iPhone application.
Snooth was awarded the Model of Excellence by Infocommerce in 2008, and is the recipient of multiple medals from the Wine 2.0 trade organization. Snooth has garnered much press within the tech, wine and food spaces from publications including Forbes, Oprah, Techcrunch, Mashable, the Guardian, and many others.
Snooth's team is comprised of experts in data management, user experience, and wine. Snooth's advisors and investors include past and current management of Blue Fly, Price Grabber, Experian, Quigo, Inertia Beverage Group, and Global Wines and Spirits amongst others.
Please visit http://www.snooth.com for more information on the largest wine site in the world.
###






Attachments
















©Copyright 1997-, Vocus PRW Holdings, LLC.
Vocus, PRWeb, and Publicity Wire are trademarks or registered trademarks of Vocus, Inc. or Vocus PRW Holdings, LLC.
More San Gimignano Press Releases
Categories: San Gimignano Tags: Application, Food, Launches, Million, Monthly, More, Pairings, Reaches, Snooth, than, Visitors, Wine

xml:lang="en" lang="en" xmlns="http://www.w3.org/1999/xhtml">

Good Tastes of Tuscany caters to Wild Oats Cooking classes in Tuscany: U.S natural food supermarket chain reward employees with a Tuscan cooking class











Salt Lake City, UT (PRWEB) October 5, 2005
Wild Oats, with a family of over 110 stores in 24 states and British Columbia, and an annual sales figure of more than $ 1 billion dollars, chose Good Tastes of Tuscany, a division of Connextions Group, to reward its employees for good performance.
The chosen staff members underwent a one-day advanced cooking class in Tuscany at the 13th century villa. The grand finale was a dinner party at Villa PandolfiniÂ's ornately frescoed dance hall. The heady mix of gourmet cuisine, vintage wine and soul-stirring music in an ambiance bursting with tradition and culture left the guests replete.                                                
The Villa Pandolfini, which, in its rich past, accommodated such guests as Napoleon Bonaparte and King Charles VIII of France, has high vaulted ceilings, a fireplace in the kitchen, a loggia looking out into a breathtaking renaissance garden and gold gilded mirrors and antique furniture.
About Tuscany Cooking Classes:
Good Tastes of Tuscany provides hands-on coaching in traditional Tuscan cuisine and offers intensive, single-day classes tailored to meet specific needs and varying proficiency levels, as well as more prolonged courses. The cooking classes in Tuscany are customized to suit individual requirements and there is even a course for young chefs. "Wine appreciation classes and tours are also conducted," says Massimo Brogi, Media Relations Manager.
The highly experienced cooking instructors, Lisa and Maurizio, both native to Florence, impart tips that canÂ't be found in any cookery book and teach traditional Tuscan recipes. Participants learn to make a complete Italian meal, from appetizers to dessert. The extra virgin olive oil and the wine come from the scenic estates of the Villa Pandolfini itself.
The Villa Pandolfini is a mere 10-minute drive from Florence and pick-up facilities are available from the city. Rooms can be rented out at the villa itself, and visitors can make it their base, not only for the cooking courses but also for sightseeing trips.
The Courses Covered by the Cooking Classes in Tuscany:
Good Tastes of Tuscany offers lessons in Italian cooking round the year, and more classes were added this autumn. The courses are affordably priced, and there is something to suit every requirement, regardless of cooking experience, knowledge of the region or proficiency in the Italian language.
Wild Oats offers a complete range of natural foods and supplements, and features environmentally conscious and cruelty-free body care and household products. It is committed to providing customers with the best of natural foods and health products and imports extra virgin olive oil from Tuscany for its stores.
Good Tastes of Tuscany, which uses only locally available, seasonal and freshly procured ingredients for its cooking courses, was a natural choice for Wild Oats to give its valued employees a rewarding experience. "A highly-enjoyable event that was very helpful for our business and also for our knowledge," was how one satisfied participant described the trip of a lifetime.
###
©Copyright 1997-, Vocus PRW Holdings, LLC.
Vocus, PRWeb, and Publicity Wire are trademarks or registered trademarks of Vocus, Inc. or Vocus PRW Holdings, LLC.
Related Tuscany Press Releases
Categories: Tuscany Tags: caters, chain, class, classes, Cooking, employees, Food, Good, natural, Oats, reward, supermarket, Tastes, Tuscan, Tuscany, Wild
Tuscany is one of those places in the world, that once you have visited it, you are bitten by the 'bug' and somehow you always end up comparing future destinations to it, usually unfavourably.
Somehow there is nowhere else in the world it is possible to compare Tuscany to. The Italians themselves sometimes try it…Umbria and then Puglia were touted as the 'new Tuscany' but putting it simply, there is only one Tuscany. Cities like Florence, crammed with Renaissance art wherever you walk, cities and towns like San Gimignano and Siena, Arezzo and more all have so much beauty and art, its incomparable with anything except what Italy might be able to offer somewhere else.
One of the main attractions for Italy and Tuscany itself is the cuisine: home of the best food in the world. It is a safe argument when you think about how well replicated Italian food is globally. Italian food is not just pizza and pasta but an assortment of grilled meats, elegant desserts and stunning aperitifs. Pasta is of course an art form…not just spaghetti but gnocchi, ravioli, linguini, macaroni…more and more than can be listed here. Pizza – the choice of toppings is actually only limited by ones imagination. As regards wine to help wash it down, there is of course the famous aperitif 'Prosecco', a sparkling dry white wine which is very popular and significantly cheaper than champagne, although in many cases more palatable. The wines themselves vary from the Super Tuscans, Barolo and the like to the lighter and readily available Chianti wines, many of us are already familiar with. White whites – the Pinot Grigio from the Veneto area is well know, as is Soave and Orvieto (from the town / area of the same region).
When quizzed on live radio about what Italians regard as the most important ingredient in Italian cooking (following discussions on truffles, garlic, herbs and so on) the chef replied simply 'its the passion'. Having eaten in Italy regularly, one knows when one has food with this special ingredient long before it arrives at your plate: simply watch the pride by which the food is delivered to your table by the waiter.
The food should not be judged just by the surrounds either. Many people remember the best food being served in a typical trattoria, family run in a small village, food cooked to 'nonnas' ancient recipes handed down between generations than from a corporate city centre restaurant by 'trained' chefs. What is almost certain, both in former and latter examples, the food will still be good!
In a country so dependent on tourism, in tricky waters at the moment, it is good to know that Italy has so much to offer, not just in cultural delights and architecture, but also in cuisine. One will be forever familiar with Italy on the tourist map for culture, cuisine and the friendliness of the people, but visitors will always ask themselves in which order they prefer those three things. The most important aspect about Italian cuisine and sights is that they do vary subtly from region to region, such is the pride of the individal, as much as the national pride at stake, the attempts to out do each other and be the best can only benefit the end consumer: the tourist.
When travel dreams take people to Italy, Tuscany is often their first stop. There's something almost seductively charming about this region and its rustic good living. Today we'll experience two classic examples of "la dolce vita" (the sweet life): joining an early-morning truffle hunt through an oak forest, and tasting the bounty of a small-town artichoke festival. For more information on the Rick Steves' Europe TV series — including episode descriptions, scripts, participating stations, travel information on destinations and more — visit www.ricksteves.com.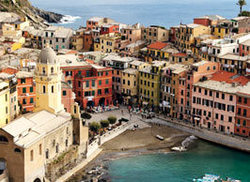 Cambridge, MA (PRWEB) February 16, 2010
Go Ahead Tours, an international leader in discovery through guided tours and European vacation packages, has designed two new tours to feed travelers' wanderlust and celebrate travel to popular culinary destinations within Italy, such as Florence, San Gimignano, Siena, Montalcino, Rome, Bologna, Turin and Verona.
In response to the increasing popularity of theme-based itineraries, Go Ahead Tours offers travelers an entirely new way to discover the world—through the flavors and tastes of Italy. These new tour packages offer a more in-depth cultural experience, since travelers will interact more with locals and sample locally produced products, like balsamic vinegar cheese and wine.
"Our travelers have expressed the desire for exciting and distinctive experiences," said Christy Waller, Vice President of Marketing. "And this year, during our 20th anniversary celebration, we're happy to offer special departures and new itineraries that give them the vacation they want. These new tours also appeal to those who may not have considered a tour group before. Our Food & Wine tours are designed for adult travelers looking to reward themselves with an international experience that will treat all of their senses."
Full itineraries on all Go Ahead's tours can be found at www.goaheadtours.com; here are included tour highlights from the two new Food & Wine tours to Italy:
For 2010: A Taste of Tuscany & Umbria: Perugia Jazz Festival

(10 Days from $ 3,399 USD; departs July 7, 2010)

    Welcome Dinner in Florence
    Private Tuscan cooking class
    Wine tasting in San Gimignano
    Local dinner in Siena
    Brunello wine tasting in Montalcino
    Traditional Umbrian lunch by Lake Trasimeno
    Special Jazz dinner event
    Wine tasting and light lunch in Orvieto
    Farewell Dinner in Rome
For 2011: A Taste of Northern Italy & the Italian Riviera

(11 Days from $ 2,699 USD )

    Welcome Dinner in Turin
    Wine tasting and light lunch in Barolo
    Cheese tasting at a local Parmigiano Reggiano producer
    Local balsamic vinegar factory visit and tasting
    Wine tasting in the Parma region
    Private cooking class in Bolgona
    Wine tasting in the Veneto region
    Farewell Dinner in Verona
Established in 1990, Go Ahead Tours (www.goaheadtours.com) offers over 75 high-quality escorted tours around the world to travelers—both seasoned and new—who are looking to learn more about the world and themselves. Committed to breaking down barriers of culture and geography, Go Ahead provides customers with superior quality, exceptional value and an unsurpassed Best Price Guarantee; that is, if you find the same tour for less, Go Ahead will match the price. Go Ahead's parent company, EF Education, was founded in 1965 and is the world's largest private educational travel company.
All prices are based on exchange rates, airfares, fuel prices/surcharges and land costs at the time of pricing (November 4, 2009) and are therefore subject to increase. Please note: Between $ 90 USD and $ 325 USD in government taxes and fees with respect to air travel, including the September 11th Security Fee, and port taxes are not part of the tour price.
###
Related San Gimignano Press Releases
There's more to do than just cook in this popular Italian destination. Tuscany Italy has breathtaking scenery and delicious food.
Video Rating: 4 / 5
There are some little facts that tourists and holiday makers to Tuscany need to know about the reputed food and wine that have made the Italian city a must-visit destination. It is well known among visitors and tourists to Italy that Tuscany has some of the Continent's finest cuisines and wines which are mostly used to entertain first-time visitors. Wine adds a special touch to any occasion that is worth celebrating. This explains why people from all over the world choose to travel all the way to Italy and specifically Tuscany, to celebrate special moments. As for Tuscany, it is not in any way different from other favorite tourist destinations in terms of relaxation spots but what makes it stand out is the unique taste of its dishes; making it an attraction to all comers.
Tuscany wine has an unrivalled reputation among all others in the region with a distinct flavor that makes it a favorite to many wine lovers all over Europe and globally too. Since wine is known to add color to all events being celebrated, it is only wise for one to make Tuscany a preferred holiday destination. There are multiple wine zones in Tuscany. Some of the most important of these wine zones include Chianti Classico, Bolgheri and Montalcino.
It is arguably true that Tuscany is a major center of Italy's wine producing cities because it is also widely said that Italy is the highest wine producing country in the world. Thus, Tuscany boasts of some of Italy's finest with a wide variety of such wines. For many decades, wine has been a major attraction to Tuscany; what with the number of visitors and tourists flocking into the city regularly for their fair share of wine-dine sessions. In recent years, Tuscany's wine makers have been putting in extra effort to enhance the quality of their wines which results in the high class products that make their way out of Tuscany's vineyards.
The excellence of Tuscany's wines are better tried and tasted for the above facts to be agreed. Whether it's for domestic consumption or for the world's markets, Tuscany can't simply be ignored on a list of the best towns producing the best wines. As the saying goes, "the taste of the pudding is in the eating," so does the taste of Tuscany's foods and wines. Within the town itself, it is very easy to locate any restaurant, eatery or bar for a quick go at any of the city's numerous foods and wines. For those who choose to take away the exotic wines, there are lots of stores where they can be found.
Tuscany's wines have come a long way that the best among the different wines have earned the term "Super Tuscan Wines." These are the types that are made using several blends of exotic varieties of fruits like grape, strawberry, cherry, etc. The west of Tuscany where the Bolgheri wine zone has its base is known as the birthplace of Tignanello and Sassacaia; both of which are Super Tuscan Wines. The wines from Bolgheri have lately been receiving more attention than ever before. Most especially in recent decades and this is largely because of their high quality among other Italian wines. Red Tuscany wine is one of the favored drinks among both locals and visitors to the Italian city.
This may be because of its unique mode of preparation whereby several different grapes like Syrah, Sangiovese, Cabernet Sauvignon and Cabernet Franc are blended together to give the finished product. The above grapes are also used to produce different types of wines. Although much has been highlighted about Tuscan wines, the city's food also enjoys the same attention as its beverage counterpart with the comments and feedback of many visitors and tourists to Tuscany.
Holiday makers to Italy always love to stop over in Tuscany to have a taste of what they often read about on the pages of travel magazines and journals. For many visitors to Italy, there are more than enough varieties of cuisines to try for an entire month for those who may be visiting the country as first timers. There is equally a wide array of mouth-watering delicatessens to try for those who are regular comers to Tuscany.
As a good way of enjoying your stay in Tuscany, you can decide to take down the list of the most popular dishes that are common among locals. Along with this list, you may also copy the recipes of the dishes that are easy to prepare or that belong to your list of favorites; with love from Tuscany. In the absence of something new to take home as souvenir from Tuscany, one can take this simple but important list of cuisines back home so as to make something out of the Italy trip. Really, foods and wines in Italy and to be specific, Tuscany, are cheap, affordable and readily available too. Depending on your preferences, you just can't run out of what to eat or drink while you are out in the Tuscan home of Italy. See you there.