Go Ahead Tours Announces Two New Food & Wine Tours to Italy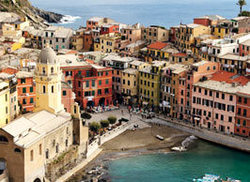 Cambridge, MA (PRWEB) February 16, 2010
Go Ahead Tours, an international leader in discovery through guided tours and European vacation packages, has designed two new tours to feed travelers' wanderlust and celebrate travel to popular culinary destinations within Italy, such as Florence, San Gimignano, Siena, Montalcino, Rome, Bologna, Turin and Verona.
In response to the increasing popularity of theme-based itineraries, Go Ahead Tours offers travelers an entirely new way to discover the world—through the flavors and tastes of Italy. These new tour packages offer a more in-depth cultural experience, since travelers will interact more with locals and sample locally produced products, like balsamic vinegar cheese and wine.
"Our travelers have expressed the desire for exciting and distinctive experiences," said Christy Waller, Vice President of Marketing. "And this year, during our 20th anniversary celebration, we're happy to offer special departures and new itineraries that give them the vacation they want. These new tours also appeal to those who may not have considered a tour group before. Our Food & Wine tours are designed for adult travelers looking to reward themselves with an international experience that will treat all of their senses."
Full itineraries on all Go Ahead's tours can be found at www.goaheadtours.com; here are included tour highlights from the two new Food & Wine tours to Italy:
For 2010: A Taste of Tuscany & Umbria: Perugia Jazz Festival

(10 Days from $ 3,399 USD; departs July 7, 2010)

    Welcome Dinner in Florence
    Private Tuscan cooking class
    Wine tasting in San Gimignano
    Local dinner in Siena
    Brunello wine tasting in Montalcino
    Traditional Umbrian lunch by Lake Trasimeno
    Special Jazz dinner event
    Wine tasting and light lunch in Orvieto
    Farewell Dinner in Rome
For 2011: A Taste of Northern Italy & the Italian Riviera

(11 Days from $ 2,699 USD )

    Welcome Dinner in Turin
    Wine tasting and light lunch in Barolo
    Cheese tasting at a local Parmigiano Reggiano producer
    Local balsamic vinegar factory visit and tasting
    Wine tasting in the Parma region
    Private cooking class in Bolgona
    Wine tasting in the Veneto region
    Farewell Dinner in Verona
Established in 1990, Go Ahead Tours (www.goaheadtours.com) offers over 75 high-quality escorted tours around the world to travelers—both seasoned and new—who are looking to learn more about the world and themselves. Committed to breaking down barriers of culture and geography, Go Ahead provides customers with superior quality, exceptional value and an unsurpassed Best Price Guarantee; that is, if you find the same tour for less, Go Ahead will match the price. Go Ahead's parent company, EF Education, was founded in 1965 and is the world's largest private educational travel company.
All prices are based on exchange rates, airfares, fuel prices/surcharges and land costs at the time of pricing (November 4, 2009) and are therefore subject to increase. Please note: Between $ 90 USD and $ 325 USD in government taxes and fees with respect to air travel, including the September 11th Security Fee, and port taxes are not part of the tour price.
###
Related San Gimignano Press Releases